CCTV / BUILDING ACCESS CONTROL / SECURITY CAMERA SYSTEMS INSTALLERS
Golden Phoenix Electric, specializes in complete business security solutions. Security technologies are changing to meet the demands of today's society. They are no longer stand-alone systems. Like legacy analog telephone systems; commercial surveillance and building access control systems are improving in function and scope. By converting to a digital signal format using Internet Protocol (IP), security networks have now become part of the client enterprise network. The challenge then becomes defining the critical elements unique to each business entity and market segment. Installing and supporting integrated client networks is what Golden Phoenix Electric does best.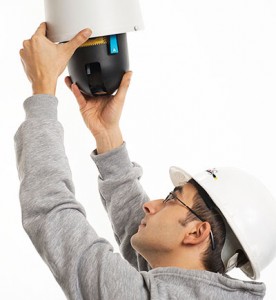 A secure environment is paramount to individuals and businesses in today's world. Clients, visitors and employees expect to be safe. Businesses are expected to take appropriate measures to ensure a high degree of personal protection and to secure the safety of their corporate assets and intellectual properties. Integrated surveillance, CCTV cameras, access control and ID technologies are the primary tools in delivering these higher levels of safety and security to the public and private sectors of society.
We are a contractor with the expertise and experience to design and implement video surveillance and access control technology based on specific client needs. These solutions are "open system" based, allowing products a smoother fit into the client's network architecture. Each network segment is tested and proven.
Call us now at (626) 421-7936 or Contact us for your free estimate or to set up a meeting to discuss your project.
With our CCTV and Security Surveillance Systems, we can help you keep your sites secure.
The Golden Phoenix Electric approach ensures a migration path for emerging video, control and communications technologies.
Wireless CCTV Systems
Business Access Control Systems
Video Surveillance Systems – Indoor & Outdoor
Outdoor Security Solutions
Serving Boston Area & all of New England
Golden Phoenix Electric CCTV Security & Access Control Services include:
Site Assessment
Network Design & Documentation
Hardware Staging and Burn-in
Associated Cabling
Installation and Testing